Film Equipment Rental For Corporate Film
Need help choosing the best film equipment rental in New Delhi, India? Let's look at some of the most crucial equipment for video shooting for corporates. The number of people consuming and viewing movies and films is constantly rising and this trend also looks similar in video advertising. Already studies show that videos, short films, and documents have shown enormous impacts across channels.
Be it a short story or life-long documentary, videos have the power to resonate with your audience. And now it is happening at a scale never seen before, presenting a huge opportunity for filmmakers like you.
However, your filmmaking dreams must be supported by the right corporate video film crew and equipment. Without carefully selecting components of both, it might be difficult to achieve successful video productions.
Here at Vivek Kunwar Media, we help you access the best Corporate film equipment in New Delhi, India without any hassles. Therefore, for your corporate films, here are the tips for putting together the right corporate video film crew and equipment.
Cameras
Video shooting for corporate like other video production types demand high-quality cameras. Nevertheless, the right camera depends largely on your budget. However, it is possible to use a DSLR or mirrorless camera with high-quality Full HD video capabilities. Many inexpensive DSLR cameras today, have 4k video capabilities, which means you can shoot good videos. If you are just starting, you can pick one of those. However, the more
features you have on your camera, the easier your work. Therefore, if you can afford to spend a lot more, look for cameras with ND filters for controlling light, audio inputs for superior quality microphones and better handling support. To build your corporate film equipment in New Delhi, India, you can check out these popular
options:
Sony F57
Sony F55
Sony A7S2
Canon 5D MK 4
"Have a look at this film we did for ITC Grand Bharat on the Sony FS7."
Lights
The type of lighting used can make or break your video production. We recommend opting for a single point of the primary light. Five-in-one reflectors can equally help boost your natural light sources. However, you can also use LED panels because they are easier to manipulate to match your other light sources. There are also occasions where you require both types of lights. Many good LED panels are expensive. However, as your favorite Film Equipment Rental in New Delhi, India, we've put together a list of budget-friendly options:
C-stand
Kinoflo 4/4 Bank
Kinoflo 8/4 Bank
Kinoflo 2/4 Bank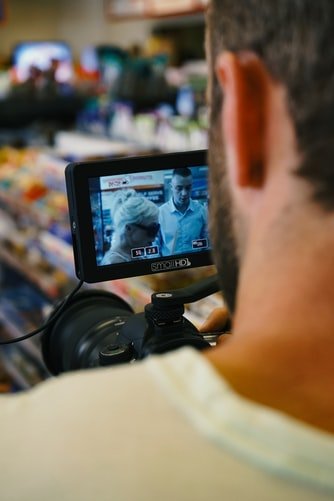 Tripods and Camera Support
Regardless, you must have good support for your camera to keep it steady and in place. The most basic requirement is a tripod or monopod that can pan and tilt. Though regular photo tripods with this functionality can work, you should opt for fluid head tripods to run your camera smoothly.
Everything you do is to ensure that your videos don't look generic. You want to make them as captivating as possible. Therefore, when you mount your camera on a supportive grip, you can avoid shooting from familiar angles, that would look like domestic videos to the audience. You want to achieve something sleeker, dramatic and consistent that aligns with your vision. Nevertheless, we want to help you achieve only the best video production. Therefore, as your preferred Film Equipment Rental, in New Delhi, India, here are additional insights on getting the right support:
Sliders – Sliders are necessary for creating smooth tracking forwards, sideways and backward shots.
Jibs – for handling the vertical movements of your camera.
Stabilizers– invest in gimbal stabilizers because they help you create continuous flowing shots
When on a budget, use our efficient film equipment rental, in New Delhi, India, So we can help you access superior quality equipment to guarantee the success of your production.